Do you think that you need to create a church directory template in order to make a directory for your church or organization? The beauty of an online directory program is that the church directory template (or how your pages will look) is already created for you. And that's one less thing to do!
With the right program, creating a church directory means that you just need to enter your members' information, and the directory program will create the look of your directory pages for you. You can choose the style in which the printed pages will appear, and the information that you enter will be seen in that template style. In other words, there's no need to create a template — you're just gathering and entering members' information.
How do templates work?
The church directory templates that are available in an online directory program should provide you with several options for how your directory data can be displayed. With Instant Church Directory, our software allows you to choose the page layout (or template) you want and that your members will want to see. Once you've entered your information, with just a few simple steps, you can have your members' data arranged just how you would like your members to view it. Below are examples of the page templates we provide with Instant Church Directory.
Church directory template examples.
With the church directory template below called "Photo Directory Pages," your directory PDF pages display the family photo and include only the family last name and the first names of the family member(s).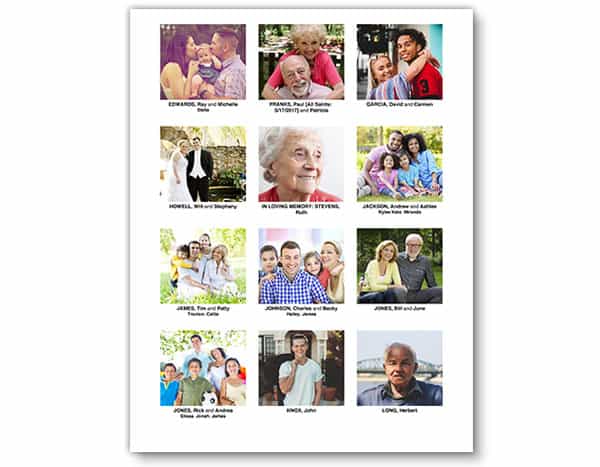 Our "Photo Directory Pages with Details" template option will show an image of the family along with their full contact information to the right of their photo. This provides all the available information for the family.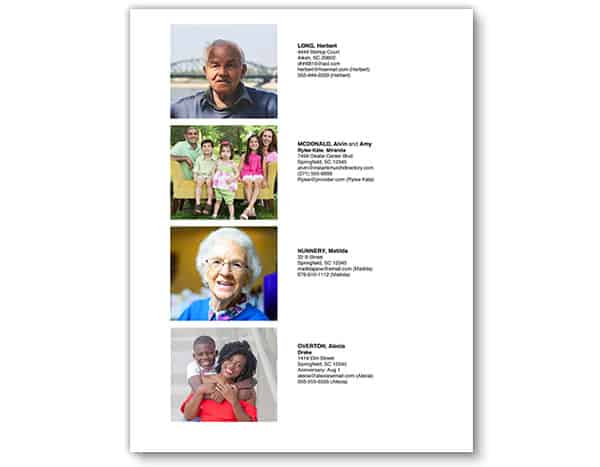 The "Roster Page" template is the option to use if you do not want to include family members' photos. This makes skimming for contact information easier and more "at a glance."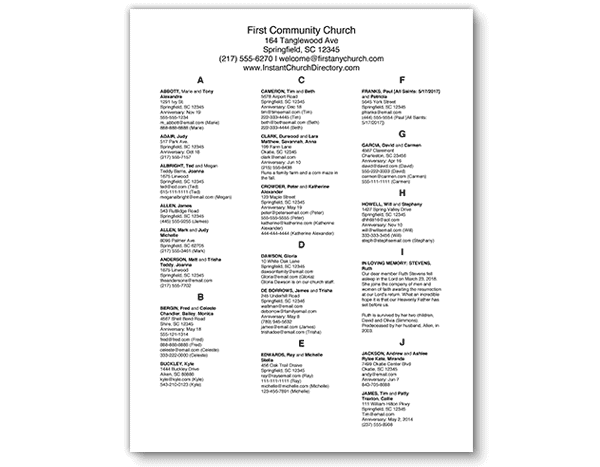 The directory templates page for birthdays and anniversaries is simply a listing of the members' information as listed in the directory. With Instant Church Directory, any of this information is optional to show — including birthdays and anniversaries.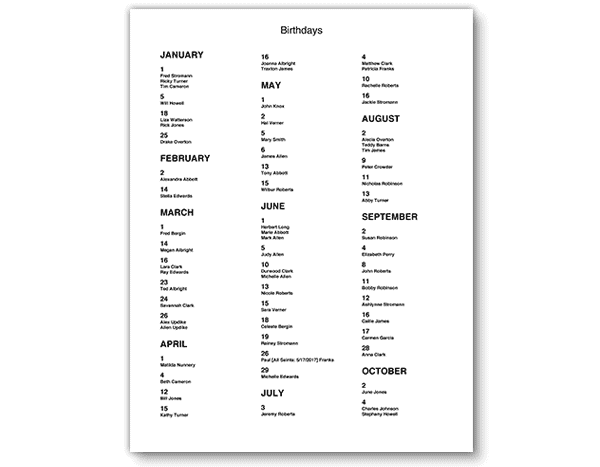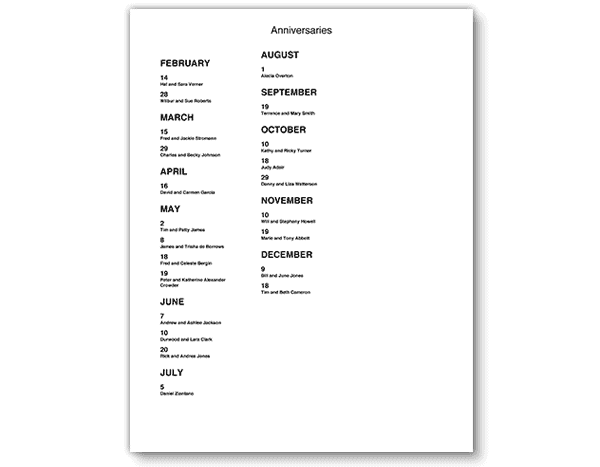 Remember, you do not have to create the template to get your directory started — we do it for you. You just need to enter your members' information and the system will complete the layout for you. You then choose whatever template style works for you. Use one or as many of the display options as you wish to include in your directory. We do the rest of the work!
We have a full document library that has more information about how to set up your directory. Read our help document about how to create the layout of your directory to get the look you want. We have created a sample directory so you can see how a completed directory looks with all the template options together in one directory. You can read more useful documents by visiting our complete library at https://help.instantchurchdirectory.com/.