Pastors and administrators are key to every congregation, but even they readily admit that volunteers keep the church running. From greeting visitors and teaching children to tracking budgets and planning meals, laypeople are involved in almost every aspect of church ministry.
That's also true when it comes to church directories. After your online photo directory is set up, it's important to recruit volunteers to assist with upkeep and management. This is a vital role, but thanks to church directory programs, it's not complex or time-consuming. And people don't need to be tech experts to pitch in.
Yet the payoffs — for the church as a whole and for individual members — are huge. Maintaining a current, complete online pictorial directory brings many benefits. It ensures that congregants can identify and communicate with one another, easily contact staff and leadership, and get involved with various church groups and activities.
Because recruiting volunteers to help manage your church directory is so important, let's first look at ways to attract those helpers. Then we'll look at some tasks those volunteers can perform and explore the many advantages of using a church directory program.
6 Church Directory Volunteer Recruitment Tips
Much of the general advice about recruiting church volunteers also holds true for finding directory assistants. Spreading a wide net, staying positive, providing detailed job descriptions and training, and showing appreciation all play a role in finding and keeping quality volunteers.
Follow these volunteer recruitment best practices:
1. Consider a wide range of potential volunteers.
Don't limit your volunteer pool by stereotyping the ideal church directory helper. Sure, it might end up being a 20-something male who works in the computer field. But it just as likely could be a high school student, a female, a stay-at-home parent, or a computer-savvy senior adult or couple. So when you're advertising an open volunteer position, make sure the wording doesn't inadvertently eliminate certain candidates.
2. Be enthusiastic during the recruiting process.
If you make the volunteer duties seem like dreaded chores that no one else wants, then don't be surprised when people turn down your requests to help. Instead, pitch the position as a fun, doable role — and emphasize its importance to the church body. Highlight perks, too, such as getting to put names to faces and being a point person for assimilating new members and staff. Emphasize that the volunteer has key responsibilities, but don't intimidate anyone from giving it at least a trial run.
3. Offer specifics and break down tasks.
Volunteers like to know what they're committing to, both in terms of time and expectations. So it's worth the effort to prepare a summary of the church directory volunteer role. Here are some questions you should answer upfront:
About how often will the person need to log in and make updates?
How many hours per week (or month) do you estimate the job will take, on average? And for how long?
Can the work be done from anywhere and on any device?
What specific know-how is required?
How much interaction should be expected?
What other skills will come in handy for this position?
Pro Tip: To start, try to avoid open-ended commitments, which can feel intimidating. Instead, provide the potential volunteer with an expected duration of service, such as six months or one year.
4. Train volunteers well.
Church directory programs such as Instant Church Directory are straightforward and user-friendly. Yet volunteers will need some initial guidance and information. So schedule a training session or two and allow plenty of time for questions. Also provide access to directory tutorials and help documents.
5. Communicate, encourage and appreciate church directory volunteers.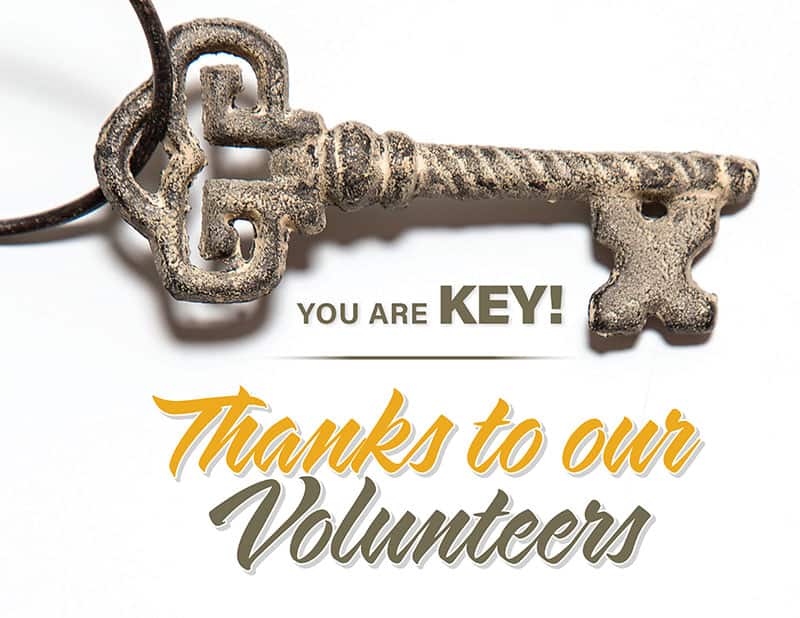 Words and gestures of thanks go a long way toward finding and keeping directory helpers. Praise them one-on-one and publicly. Celebrate their ideas, efforts and accomplishments. Give the assistant a small gift card or bring him or her a favorite treat as a surprise. Also provide volunteers with detailed feedback and stories about how they're helping people by pitching in.
6. Make the directory volunteer "official."
A church directory volunteer serves as a vital contact person for the congregation, assisting new and longtime members alike. Make sure everyone knows who the volunteer is and how to get in touch with him or her. (A business card with a photo works perfectly for this.) That also will cut down on calls to the church office when people have questions about the directory or need to update their listings.
How Volunteers Can Help Manage Your Church Photo Directory
After your congregation's pictorial directory is up and running, volunteers can assist with several upkeep tasks. Those range from onboarding new members and generating regular updates to communicating with congregants and adjusting their directory listings, as needed.
Here are several examples of tasks for directory volunteers:
Onboarding and welcoming new church members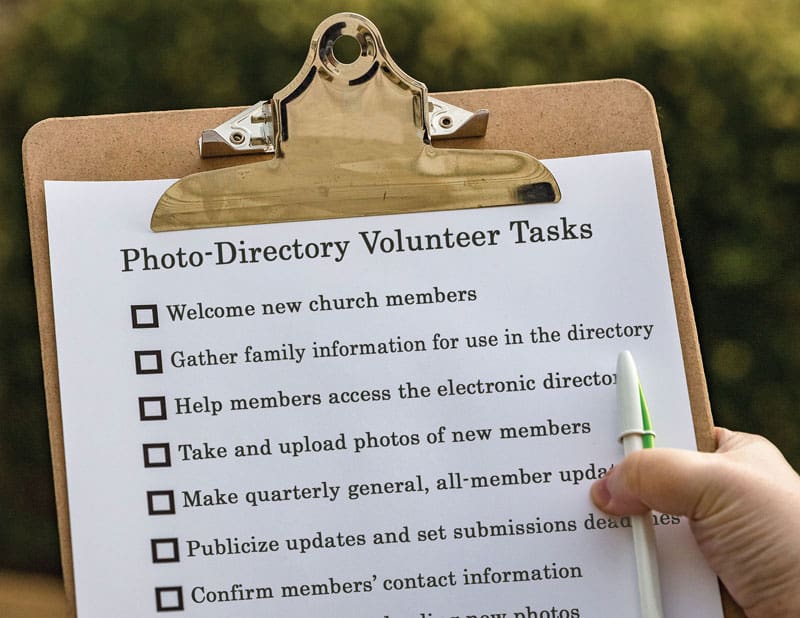 Gathering their personal and family information (contact details, birthdays, anniversaries, etc.) for use in the directory
Helping new members access the directory on their mobile device or computer
Offering to take and upload photos of new members for the directory
Making quarterly or biannual general, all-member updates to the church directory
Publicizing the updates and setting deadlines for submissions
Communicating directly with members about updates to confirm their contact information
Organizing and uploading new photos
Making updates to members' information when family events occur
Births
Adoptions
Marriages
Young adults wanting to be listed in a separate directory entry
Deaths (a volunteer can set up an "in memoriam" section in the church directory)
Maintaining directory information for elderly and homebound members
Deliver printed church directories to their homes or care centers
Update their contact information
Update and upload their photos
Serve as a contact person to assist these congregants with accessing the directory on a computer or mobile device
Communicate with church staff
Request (or submit) newsletter and bulletin announcements about making directory updates and downloading the app
Ask church staff to spread the word about the many ways to use the directory
By using a church directory program, you offer numerous professional shortcuts to directory volunteers. A program such as Instant Church Directory simplifies each step while ensuring safety and accessibility. Updates are immediately synced to church members' devices, so everyone always has the latest information. And you can have more than one directory volunteer; that's because ICD permits up to three editors at no additional cost. Using the mobile app simplifies each step even more.
Recruiting church directory volunteers will be a snap when you follow these tips and use an online program!