Fall has arrived, and so will a few more email notifications! You will now receive an email notification when members submit photos. Plus the latest app version includes the ability to view anniversaries in a list view, just like with birthdays. Read on …
— Anniversary Pages —
Anniversaries list on member app
With the latest mobile app release, members will be able to view anniversaries by month, just like you can with birthdays. Be sure to have members update their app to see this latest feature.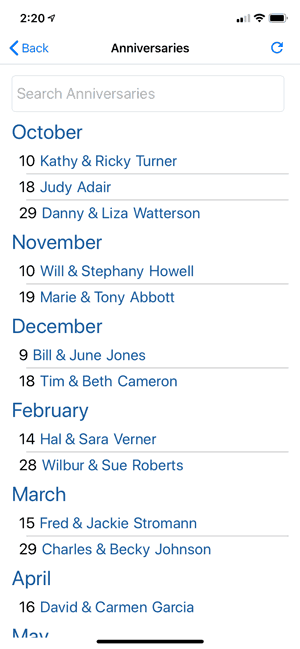 Anniversaries list on member website
Already live is the ability to view anniversaries by month at members.InstantChurchDirectory.com.
— Notification Emails —
You will now receive an email notification at the end of each day if a member (or members) have submitted a photo for your approval. Don't want these emails? Turn them off under My Account.
We also put in notification alerts at the top of many views to make it quick and easy to review and approve these photos. No more hidden submissions!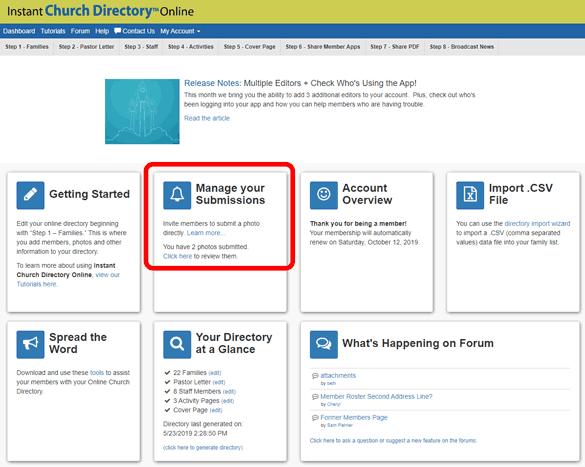 This is all being done in anticipation of adding the ability to allow members to submit an update to their information. This feature will allow members to send a message through the app when their information needs changed! Admins and Editors will then be able to approve or decline the update, just like you do with photos today.
We hoped to have this out by the end of this year, but that may not be realistic because we're getting close to Thanksgiving and Christmas — busy times for both churches and our families. So, we don't have an exact timeline and may not be able to release this feature until after the holidays. We'll try to keep you posted on our progress as we go.
Don't forget to follow us on Facebook for updates along the way.