We, at Instant Church Directory, are pleased to share with our blog readers a special gift for the Christmas season – free, downloadable Christmas cards from our sister publication, ChurchArt Pro. What a perfect way to share the joy of the Christmas season with your congregation. Use your church directory to make distributing them even easier!
Addressing and popping these Christmas Scripture Cards in the mail is a quick, effective way to let people know they are in your thoughts during this season. But here are a few more ideas that we think you will love:
Make a special "sweet" delivery. Cover plates of homemade goodies with colorful plastic wrap, and then tie or tape a Christmas Scripture Card on top. Leave plates outside people's doors to surprise them, or call to inquire about the best delivery time and method. This would be especially meaningful to those members of your congregation that are vulnerable or homebound.
Create gift or goodie bags. Fill paper bags with non-perishable snacks, Christmas candy, and little bottles of seasonally scented hand sanitizer. Either place a Christmas Scripture Card inside or tie one to the bag with ribbon threaded through a punched hole. Don't want to use a traditional gift bag? Opt for a stocking instead!
Virtual Caroling. Check with a local nursing home or care facility (and follow protocols) to see if a soloist or small ensemble can stand outside a lobby or residents' windows to sing carols. Then leave a stack of pre-signed Christmas Scripture Cards for staff members to distribute.
Reach your little members. If your church distributes at-home curriculum or Advent-in-a-box devotional materials, include a Christmas Scripture Card addressed to each child and use your church directory will ensure that no one is left out.
Download Free Christmas Cards
Below are links to download the designs in PDF, Word, and Publisher file formats. Click to download the templates for free and print out as many cards as you'd like.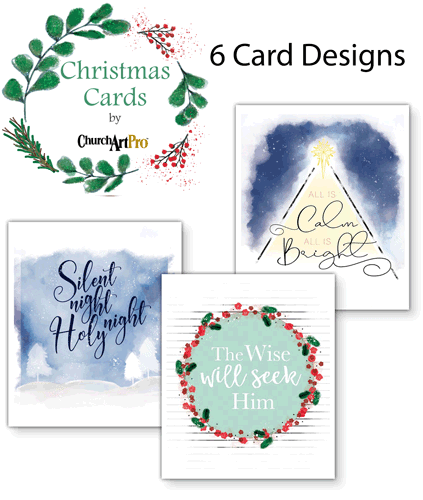 Click on the links below to download the templates for FREE:
Christmas Scripture Cards PDF
Christmas Scripture Cards PUB
Christmas Scripture Cards DOCX
All of us at Instant Church Directory ask that God bless your church's outreach programs and Christmas celebrations!