When you create an online church directory, a concern of church members might be the privacy and security of their personal information. We understand that fear — it's a main concern of ours, too! With a little planning and communication, you can put to rest any concerns your members might have about the use of their personal information.
The best way to address privacy questions is to show your congregation up front that you're addressing their concerns. An easy way to do this is to write out a Privacy Policy for your specific congregation. For example:
 "Information contained in this directory is for church-related purposes only and is not to be shared outside our church body. Please do not use this information for any type of solicitation purposes. By using this directory, you agree to use the information in accordance with the Privacy Policy. Thank you for respecting the privacy of your fellow church members."
Once you have written it, below are some simple ideas for conveying this important information.
Add the Privacy Policy as a family entry within the directory.
If you add a number or symbol at the beginning of the "Family Name" field, it will show up first on your list of families. For example: **PRIVACY POLICY**. Add the rest of the copy to the Additional Details field. (Thanks to one of our users who gave us this idea!)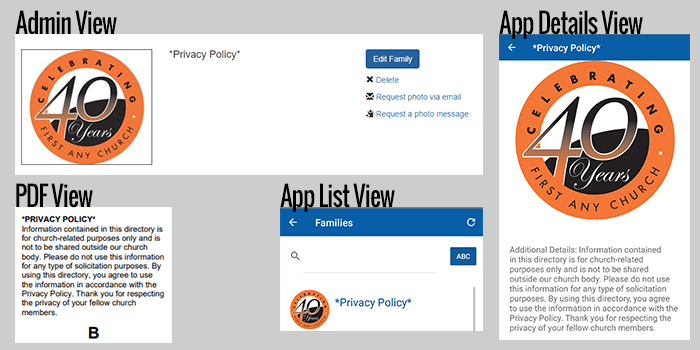 Create a flyer announcement to distribute to your church members.
Get started by using a sample flyer from our Tools page and add the privacy policy to the back of it.
Post a copy of your Privacy Policy to your church's website.
Then, put the link to members.instantchurchdirectory.com right next to it — so members will see your Privacy Policy before logging onto the directory.
Send the Privacy Policy to your members in an email.
As an administrator, you can use the Broadcast News feature within Instant Church Directory to send your members a quick email introducing your Privacy Policy.
Give Your Members Peace of Mind.
Most of your church members will simply want reassurances that their information will not be seen or used by people outside of your church. Once they understand the directory is private among the church family, they will feel more comfortable using it and keeping their information up to date.